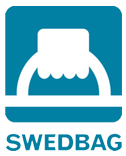 Sustainable bags from our sustainable factory
If you're looking for a professional manufacturer of paper bags, you've come to the right place. 
In our own factory in Jordbro outside Stockholm, we've gathered all the valuable knowledge and professional skills that are needed to create a bag that the customer requires and that's designed for the job it should do. Here in our sustainable factory, we manufacture locally produced bags from kraft paper made from the Swedish forests on our doorstep, with twisted or flat handles and world-class printing. Our bags are sustainable twice over, for the environment and for the user. We're happy to share our expertise and experience as you help your customers make the right choice for them.